AV Industrial Products specialise in providing anti vibration mountings and rubber-to-metal components for vibration control solutions for varying applications, these can include marine engines.
Marine engine mounts are specially designed to isolate vibration and structural noise transmission from marinised engines. They are commonly used for internal combustion engines, gearboxes, pumps and motors amongst other types of equipment found on marine vessels. Our range of Silent Marine Mountings prevents vibration from travelling through the boats structure, protecting the vital components which are susceptible, and also greatly improving user comfort.
In the below diagram of our rubber AV mounting, shows how the design of our mounting is ideal to absorb the force generated by a propeller shaft in the water. The force from the propeller (thrust) should be applied to the longitudinal (2.5) direction.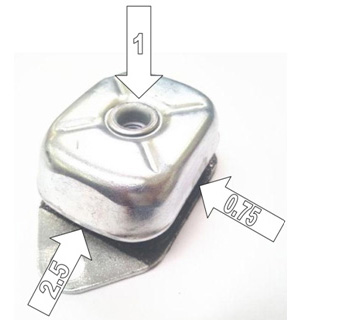 When the direction of maximum flexibility has been is aligned a 90° to the crankshaft and the direction of maximum stiffness is aligned with the propeller, the Silent Marine anti vibration mounts can offer optimum vibration isolation, while accommodating thrust from the propeller.
It is important to help maintain a well-functioning, healthy rubber vibration mount because poor or worn out rubber mountings can cause a multitude of problems. One such problem is that the bearings can become rapidly worn out, gearboxes to become worn, struts to loosen or transmission failure. All of these problems can lead to great expense in repair bills. However they all can be prevented by using a high quality engine mounting.
The Silent Marine mountings are manufactured from High Performance Rubber and Mild Steel plates that comes as standard with Clear Zinc Plating to prevent rusting, an internal bump/rebound control stop which prevents the mountings from failing. The Silent Marine mountings are also available in Stainless Steel for corrosion resistance. A special 8.8 Grade height adjusting stud can also be supplied, which allows the engine and gearbox to aligned with the drive shaft, without fear of failing/shearing bolts.
As a guide to selecting the best type of marine engine mount for your engine, you need to consider:
The make/model of engine.
The number of engine mountings and gearbox mounts required.
The number of cylinders it contains.
The mass of the engine and gearbox.
The existing mountings (if applicable).
The weight distribution and thrust applied to the mounting.
An engine mount that is worn out and needs replacing can cause drive shaft misalignment, which in turn causes the universal joints to oscillate and subsequently wear. On larger vessels, the larger the diameter of the shaft and the more critical the alignment is, and there any misalignment is magnified over the length of the shaft, hence why a fully functioning marine engine mounts is critical.
If you would like any more information about our wide range of anti vibration mountings and what type would be most suitable for your application, please contact one of our highly trained and experience engineers on +44 (0116) 246 1261 or email us on mail@avindustialproducts.co.uk or visit on www.avindustrialproducts.co.uk or www.vibration-mounts.co.uk