Cab Mounts for Industrial Vehicles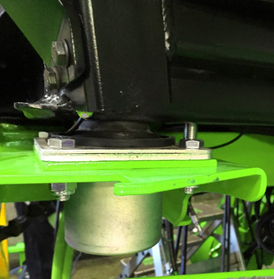 AV Industrial Products Ltd specialise in the supply and manufacture of Anti Vibration Mountings and Rubber Engineering Components for Industrial Machines and Vehicles.
​
Cab mounts are commonly used on many types of industrial vehicles such as Agricultural Vehicles (Tractors and Harvesters), and Construction and Earth Moving Vehicles (Excavators, Backhoe loaders and Dump Trucks) to protect and isolate the Cabin and Operator from the harsh vibrations and shocks created by the vehicles engine and transit movements (such as vibration/shock transmitted from the tyres/tracks) . In addition, Cab Mounts can reduce fatigue to fabrications and hydraulic connections.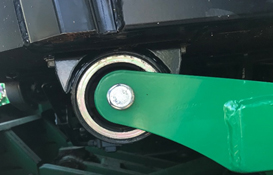 With the ever-growing importance of controlling human and whole-body vibration levels, a correctly selected Cab Mount plays a key role in ensuring a comfortable experience for the operator and an extended service life of the vehicle.
​
Subject to design appraisal, correctly selected Rubber Cab Mounts can be used in applications that require (ROPS) Roll Over Protective Structure and (FOPS) Falling Object Protective Structure.

Cab Mounts are offered in various shapes and forms which can accommodate a range of different vehicles applications, terrains, and environmental factors, and can include;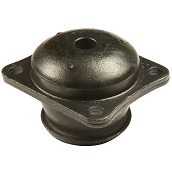 Cone Mounts - The most common type of Cab Mounts, they are designed to offer a high horizontal stiffness in comparison to their vertical stiffness which provides control of lateral movements whilst allowing flexible movement in the vertical axis in order to offer good levels of isolation and operator comfort. Using Overload and Rebound washers will provide a failsafe design which is critical for mobile applications. They are particularly suited for applications that required ROPS & FOPS certification (subject to approval)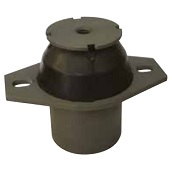 Hydro Mounts - Interchangeable with Cone Mounts, the Hydro Mounts offer the ultimate performance in terms of operator comfort - a premium experience. In addition to the rubber component, which provides vibration isolation, the product has an integral hydraulic damper which controls and absorbs excessive shock forces created during off-road movement and transit shocks. In addition, the Hydro mounts incorporate an integral failsafe device suitable for mobile applications and are suitable for ROPS and FOPS certification (subject to approval).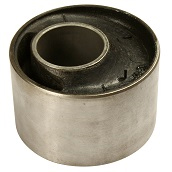 Rubber Bushes & Hydro Bushes - Low cost solution and fully captive. Are also available as Eccentric bushes which are typically used to provide higher levels of vertical deflection and ideal for tilting cabs. Similar to Rubber Bushes, Hydro Bushes offer a built-in hydraulic chamber to absorb transit shocks and bumps, and provides improved operator comfort. Suitable for ROPS & FOPS certification (subject to approval)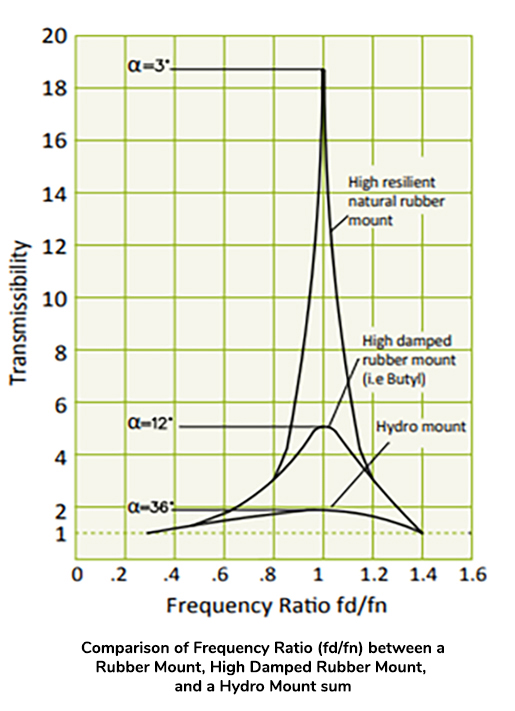 Advantages:
Failsafe Design
Improved Operator Comfort
Ideal for Mobile Applications
ROPS & FOPS (subject to approval)
High Shock Load Capacity
Excellent Vibration Reduction
Low Profile Installation
Applications:
Construction Vehicle Cabs
Off Road Vehicle Engines
Vehicle Cabs
Rail Applications
Transmission and Gearbox Suspension
Commercial Vehicles Cabs
Agricultural Vehicles Cabs
Contact our Engineering team for Free technical advice, including product and application recommendations, problem solving, computer modelling and calculations, and on-site vibration and FFT frequency analysis. engineering@avindustrialproducts.co.uk or call +44 (0)116 2461261
Disclaimer: This information is for guidance only. Customers are recommended to contact us for further technical information on products and applications. We reserve the right to alter specifications or withdraw products without notice.