AV Industrial Products Ltd supply a vast range of anti-vibration mountings that are suitable for many types of fan that includes:
Centrifugal / Axial / Roof Mounted / Ducted In-Line / High Pressure / Suspended / Suction / etc.
Please find the below selection of AV Industrial Products anti-vibration mounting ranges that are commonly used fan vibration mountings:
Please email: mail@avindustrialproducts.co.uk or telephone: 0044 116 2461261 with your anti-vibration mounting enquiries and our team of engineers will be happy to assist you
Reasons and benefits for installing Fan Vibration Mountings
Industrial fans generally consist of the following mechanical components: Electric Motor, impeller, bearings and casing. Larger fans can include additional components such as pulleys, belts and base-frame. Due to the manufacturing limitations of the rotating components, imbalances are common place. Any out of balance masses of the rotating components may cause problematic noise and vibrations.
Vibrations generated by the fan can transmit via the supporting structure into other components. Components that are connected to the same structure as the fan may have fragility levels meaning that they require their own anti-vibration mountings. Those structure borne vibrations can also cause resonating conditions within components or structures that are connected to the fan. Vibrations generated by the fan or as a consequence of the fan can reduce the service life of associated components and impair the surrounding environment.
During the service life of the fan, transmitted fluids can cause the impeller blades to wear and those fluids can become attached to the rotating blades. Either the blade wear or attached material to the blades can also produce imbalances and thereby cause further vibrations. Other component wear such as the belts or bearings can cause additional vibrations following prolonged use of the fan
If the vibration levels are low at the supporting structure or connecting pipework or ductwork, when the fan is commissioned, then this may not be the case throughout the service life of the fan. It is therefore good practise to install anti-vibration mountings to isolate any vibration at source.
Fan vibration mountings should be installed between the fan unit and the supporting structures to reduce the generated noises and vibrations. The installation of the AV Industrial Products fan vibration mountings can greatly reduce the emitting noise and vibrations. This reduction in noise and vibration should greatly improve the environmental conditions and experience for any operators, occupants, neighbours, etc.
The fan vibration mountings are low cost solutions enabling greatly improved environmental conditions. They could also assist with preventing future vibration issues that may occur due to wear, tear, damage throughout its service life.
Connecting systems such as pipework, ductwork, etc may also vibrate due to the fan vibrations. AV Industrial Products have a range of Hanger Mountings that reduce the residual vibrations transmitted via the pipework and ductwork, as follows: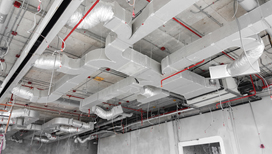 Suspended HVAC ductwork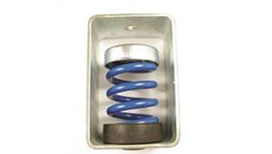 Spring Hangar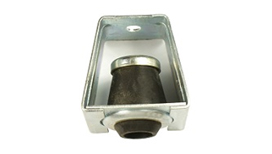 Rubber Hanger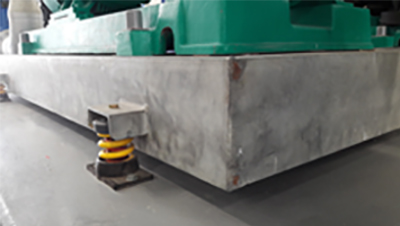 Inertia Bases
Very high levels of anti-vibration performance can be achieved using inertia bases. Inertia bases are galvanised steel box constructions that are then filled with concrete on-site. The fan is positioned onto the concrete slab and the whole system is then supported via spring mountings as shown in the image. The increased concrete slab increases the inertia mass and becomes a damper within the suspended system which in turn reduces the fan vibration. The additional mass also lowers the centre of gravity, reduces any rocking motion and increases the thrust resistance. Inertia bases are matched to the application requirements and our team of engineers are available to discuss the application details with you